Published
Weekend Reading — 💸 $50,420 for a Zoom meeting?
This week we get shamed by a bear, make friends along the way, scream inside our hearts, and let the market regulate itself! Also, mask up 😷
Diana Budds "a look at the typologies of COVID-19 improvisational architecture. first off: color blocking!"
---
🧰 Tools of the Trade
/dev/caneco "Apparently yourhandle/yourhandle is a ✨special ✨ repository that you can use to add a README.md to your GitHub profile."
Rowan Merewood I'm still not sure what the difference is between strict lax and none:
Quick thread 🧵 on setting a SameSite value for your cookies, as I've seen a few misconceptions. I promise it's quick: 1⃣2⃣3⃣
GitHub Actions: Manual triggers with workflow_dispatch This is pretty cool. Github workflows are not just for testing PRs, deploying to main, and taking screenshots (CI/CD). You can schedule workflows to automate many tasks, like making backups, sending emails, etc. And now you can even run manual workflows from a form!
Foam A personal knowledge management systems that runs inside VSCode: for organizing research, keeping notes, writing long-form content, etc. Inspired by Roam Research, which turned out to be problematic, so if you're looking for alternatives …
lmammino/financial TypeScript/JavaScript financial library, based on numpy-financial, to help you build financial literate apps.
Samplr Audio sampler and musical instrument for the MacBook Touch Bar.
Cassidy Williams "Sometimes the best debugging and testing tools were the friends we made along the way"
---
🕸️ Web-end
chrisota And I can barely center an element:
Them: How detailed oriented are you?
Me: Yes.
I finally completed reworking an old pen! 🥳 For comparison, the pure #CSS illustration is on the left and a screenshot of the real watch is on the right https://codepen.io/chrisota/pen/OJJbdbR #rolex #illustration #webdev
Ten modern layouts in one line of CSS Apropos centering elements with CSS, this is super handy cheatsheet I'm going to come back to over and over.
munrocket/parallax-effect Parallax effect in javascript using face tracking. It doesn't work all that well, facial recognition in the browser is only "ok". But I do imagine one day we'll have lively video chat, and it will be possible because of this technique, and proper front-facing cameras (= depth sensor).
Lynn Fisher "One <div> is fun but how about 50? As I was working on this it was turning into just a collection of single divs, so I went with it.💀 CSS collector's cabinet over on @CodePen https://codepen.io/lynnandtonic/pen/LYGjqOo" The slow motion build-up video is fun to watch.
---
📈 Business Side
Robinhood Has Lured Young Traders, Sometimes With Devastating Results Robinhood in the hot. A trading app that uses all the gamification trappings you can imagine, at a time when people are stuck home and bored, have no sports game to bet on, but what a volatile stock market. Robinhood's business model is based on selling their users' trade data to more sophisticated investors (entirely automated systems trading at high volume on low margins):
That's because it makes money through a complex practice known as "payment for order flow." Each time a Robinhood customer trades, Wall Street firms actually buy or sell the shares and determine what price the customer gets. These firms pay Robinhood for the right to do this, because they then engage in a form of arbitrage by trying to buy or sell the stock for a profit over what they give the Robinhood customer.
As you can expect from a high flying disruptive software company, there are negative consequences, including one death toll:
Those dangers came into focus last month when Alex Kearns, 20, a college student in Nebraska, killed himself after he logged into the app and saw that his balance had dropped to negative $730,000. The figure was high partly because of some incomplete trades.
This being the NYT, of course they'll twist some facts to get their point across. For example, this chart sets the X axis "relative to the average account size" — since the average Robinhood customer has way less money in their account than the average Charles Schwab customer, the adjusted chart looks so alarming. Shameless lying with statistics.
The Snuggie sold over 30 million units and generated $500 million in revenues. It's cousin, The Slanket, reached almost $10M per year too.

In case you were wondering, a blanket with sleeves has outperformed most venture-backed D2C brands.
---
🤖 Machine Inelligence
WSJ: GoogleBot can add products to shopping carts That's not entirely a bad idea:
Sellers that upload their product feeds to Google Merchant Center may not realize it, but they agree to having Google's bots crawl their sites for price verifications when they agree to the Terms of Service. The bot is designed to ensure the price in the feed matches the price on the product page and when the product is added to the cart.
---
😷 Mask Up!
Most Americans say they regularly wore a mask in stores in the past month; fewer see others doing it If you want to predict how the economy will be doing through 2020, mask wearing is a better metric than the stock market: "65% of U.S. adults say that they have personally worn a mask in stores or other businesses all or most of the time in the past month." Meaning, long way to recovery (we need at least 80% compliance).
As with all surveys, survey respondents seem to be doing better than average: "fewer say all or most of the people in their communities are wearing masks in similar settings"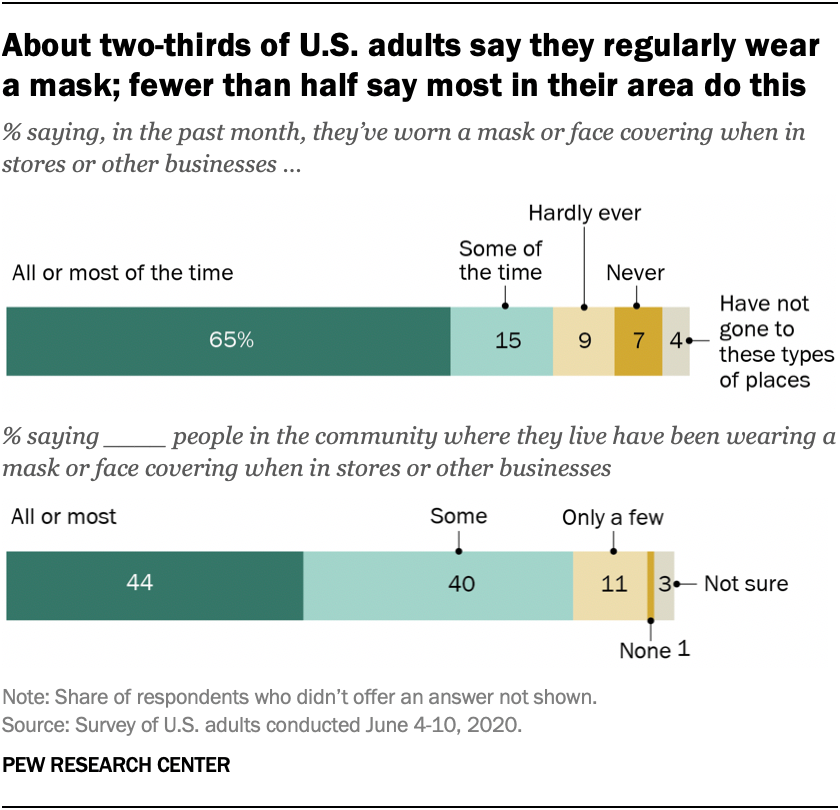 Paulie 😷
A virologist, an epidemiologist and a scientist walk into a bar,

of course they didn't.
American Passports Are Worthless Now (Map) Sigh.
At the same time, you can't trust Americans. Americans have poor hygiene (low masking rate) and at least 40% of the population can't be trusted to even believe that COVID-19 exists, let alone to take it seriously. They're likely to refuse testing, not report symptoms, break quarantine, and generally [not] follow rules. Americans have a toxic combination of ignorance and arrogance that makes them unwelcome travelers.
---
⭐ None of the Above
Eric Lawrence Who doesn't buy their ceiling fans by the ounce?
Matt Stancliff "best opening paragraph of the day"
Nate Tice "still my favorite clip of the year" — I don't know what game this is, or the rules, didn't stop me from watching this video several times over.
Reopened Theme Parks Ban Screaming on Roller Coasters They're telling people: "Please scream inside your heart"
APOD: 2020 July 7 - Comet NEOWISE over Lebanon "Comet C/2020 F3 (NEOWISE) was discovered in late March and brightened as it reached its closest approach to the Sun, inside the orbit of Mercury, late last week" (Photo by Maroun Habib)
Dare Obasanjo "These streaming subscriptions are getting out of hand."
Ariel Cohen-Goldberg Fascinating thread about dictionaries and the peculiarities of the English language. Irregardless of linguistics, the original tweet fits well with the 2020 zeitgeist:
By now you've probably seen the vitriol against "irregardless" being considered a "real word". I wanted to discuss the actual science (linguistics) behind words like this because quite frankly, it's beautiful and a little surprising. 🧵
Captain Nasdaq "The market will regulate itself!" The market:
---
❤️ You're the best! If you enjoyed this, why now share with your friends?